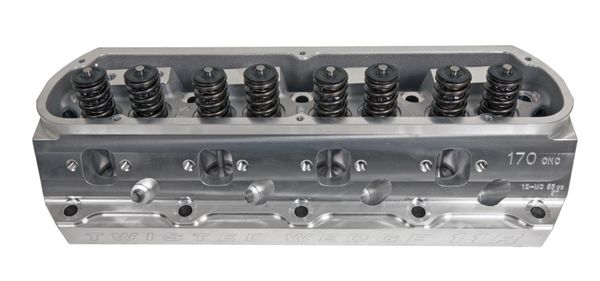 Trickflow 170 11R Heads
** Please contact for current availability**

One of Trickflow's newest offerings: the 170cc 11R head. 

Something great just got better! Trick Flow used advanced 3D solid modeling and CAD tools (plus a couple decade's worth of racing experience) to turn its track-proven Twisted Wedge® design into the potent Twisted Wedge 11R 170 head.


Trick Flow Twisted Wedge 11R 170 heads are a direct replacement for previous Twisted Wedge heads and work with all Twisted Wedge-specific pistons. New high velocity, race-inspired CNC Street Ported runners have been optimized for today's popular bore and stroke combinations, and have a standard resolution surface finish for significant performance gains. Modified 11° intake and 13° exhaust valve angles and a restructured, CNC-profiled combustion chamber arrangement provides more airflow and performance potential. 

Premium certified materials and components, along with the finest CNC tooling, are used to ensure exceptional quality and durability, dimensional accuracy, and balanced flow from port-to-port. The fully machined castings are very strong and have a great-looking, billet-like appearance.



Cylinder Head Style:
Assembled
Cylinder Head Material:
Aluminum
Intake Port Shape:
Rectangular
Intake Valve Diameter (in):
2.020 in.
Cylinder Head Finish:
Natural
Combustion Chamber Volume (cc):
53
CNC-Machined Combustion Chamber:
Yes
Intake Runner Volume (cc):
170cc
Exhaust Runner Volume (cc):
66cc
CNC-Machined Intake Runner:
Yes
CNC-Machined Exhaust Runner:
Yes
Combustion Chamber Style:
Twisted Wedge®
Intake Port Location:
Standard
Exhaust Port Shape:
Square
Exhaust Port Location:
Standard
Intake Valves Included:
Yes
Exhaust Valves Included:
Yes
Exhaust Valve Diameter (in):
1.600 in.
Valve Springs Included:
Yes
Maximum Valve Lift (in):
0.600 in.
Outside Diameter of Outer Spring (in):
1.295 in.
Damper Spring Included:
Yes
Number of Springs Per Valve:
Dual
Retainer Material:
Chromoly steel
Valve Stem Seals Included:
Yes
Rocker Arm Studs Included:
Yes
Rocker Arm Nut Thread Size:
7/16-20 in.
Rocker Arm Nuts Included:
No
Guideplate Pushrod Size:
5/16 in.
Accessory Bolt Holes Drilled:
Yes
Valve Guides Included:
Yes
Valve Guide Material:
Bronze
Valve Seat Machine Style:
3-angle
Valve Seat Material:
Ductile iron
Oiling Style:
Through pushrod
Quantity:
Sold individually.
Notes:
Street ported fully CNC, non-emissions head. For customers with blocks that are machined for 7/16 in. head bolts, the use of TFS-51400419 head bolt bushings is required. Set-up for hydraulic roller cam shaft only.