Trickflow 225 "High Port" Cylinder Heads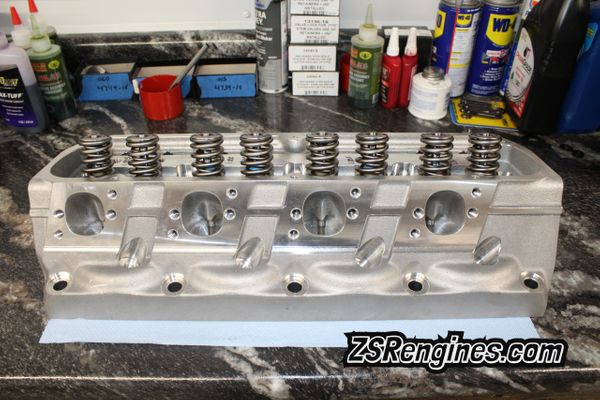 Trickflow 225 "High Port" Cylinder Heads
** Please contact for current availability**

ZSR prepped custom Trickflow 225 High Port Cylinder Heads. These heads have MANY different options that we can do to them and if you need something unlisted, just email or call us. We can do receiver grooves in the heads for O-Rings, soft chambers, etc. 
**HYD Roller Spring Package has been upgraded. See Below for Details**
These heads work great on N/A and power-adder applications. Very thick decks allow them to stay flat under extreme boost or nitrous. The TFS High Ports are some of the best 20 degree heads on the market.

-TFS 225 High Ports, fully CNC'd intake runners, exhaust runners, and combustion chambers
-58cc or 70cc combustion chambers available
-Bowl Blended
-FERREA 6000 Series 2.080" intake valve standard (Titanium Upgrade Available)
-FERREA 6000 Series 1.600" exhaust valve standard (Titanium and Inconel upgrade available)
-For HYD roller setups, we use  PAC 1222X Spring (180lb/480lb and up to .700" Lift) and Tool Steel Retainers are standard
-For Solid Rollers, we use a PAC 1225 spring (250lb/765lb and up to .800" lift) and Titanium Retainers are standard 
-Other Spring Options Available 
-Exhaust Ports raised .750" over stock
-Guide Plates available for 5/16 or 3/8 pushrods
-ARP 7/16 Rocker Studs Available 
-Sold In Pairs
**These heads are a custom order done in-house at ZSR and can take 1-2 weeks to ship**
*We can do any spring/retainer package available on the market. Call or email with your needs*