8.2" Longblocks (HYD Roller)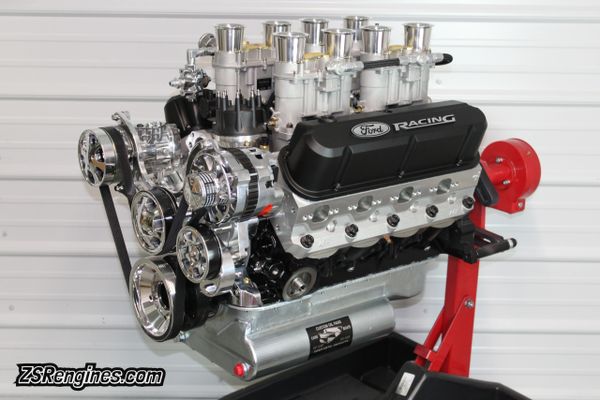 8.2" Longblocks (HYD Roller)
***Update: Our HYD Roller Longblocks now come with USA-Made Johnson Lifters****

ZSR Dart-Based 8.2" Longblocks.  Full custom builds, no mass produced engines. Cylinder heads are done in-house; not "shelf" items. Whether you want to make 500hp or 2000hp, we can get a package together to meet your goals. Name-brand, quality parts ONLY.
Why do a ZSR longblock instead of a shortblock? The advantage to going with one of our longblocks over a shortblock is that it takes the guess work out of the engine work for the end user. We set the rocker geometry, determine pushrod length, check piston to valve clearance, determine and use the proper thickness and bore diameter head gaskets, etc. If we do the oil pan as well we set the pickup clearance and install everything for a leak-free result. All of these steps are absolutely critical and it can be a gamble doing it at home for some customers.
Fully Machined IN-HOUSE (For More Info Click HERE)

-Resurfaced with BHJ fixture, MLS compatible finish
-Bored
-Torque Plate Honed on Sunnen CV616 w/ARP hardware
-Line Honed with ARP main studs
-Rotating Assembly balanced on CWT Multi-Bal 5000
Included Parts:
-Dart Coated Cam Bearings
-Clevite H-Series Bearings
-FelPro Rear Main Seal
-ARP main studs
-Painted your color of choice
-JOHNSON USA-Made Linkbar lifters, Reduced Travel
-Custom Camshaft Ground on a billet core, 100% spec'd for your specific application

-COMETIC MLS Head Gaskets
-ARP Head Bolts (Studs available)
-ROLLMASTER Billet timing set with Torrington Bearing
-Machined Camshaft Retainer Plate
-ARP Camshaft Bolt
-One-Piece, custom length 5/16" pushrods
-Scorpion "Endurance" series rockers
Crankshaft Options:
-Lunati VooDoo 4340 forged Crankshaft, internally balanced (most popular option)
-Molnar 4340 Forged Crankshaft, Internally Balanced
-Callies Magnum CCW (Center Counterweight) 4340 Forged, USA-Made crankshaft 

Connecting Rod Options:
-Eagle H-Beam Connecting Rods w/ARP8740 or ARP2000
-Molnar
Billet
H-Beam rods w/ARP2000 bolts
-Callie's Ultra H-Beam rods w/ARP2000 bolts
Piston Options:
-You choose whether you want Wiseco, Mahle, or Diamond pistons. All pistons we use in these shortblocks are a 2618 forging. When you order, you will be contacted and we will go over your combination to make sure the piston offering from the brand you chose will work for you. Flat top, Dish, Dome, etc to achieve your desired compression ratio.
Piston Rings:
-Standard on RaceTec pistons is the Mahle HV385 1-1-2mm ring package. This is an extremely thin, low-drag setup with a steel top ring, steel napier second ring, CP20 2mm oil ring. Great for NA or Power Adders
-Standard on Wiseco pistons is the Wiseco GFX 1.2-1.2-3mm ring package. Steel top, napier second. NA or Power Adder
-Standard on Diamond pistons is TOTAL SEAL AP Ringset, .043-.043-3mm. Steel Top, Napier Second. NA or Power Adder

Custom Camshaft: 
-Ground on a billet core, 100% spec'd for your specific application
Oil Pan Package: Includes a Moroso pan, Moroso pickup, M68 or M68HV oil pump (blueprinted at ZSR), ARP oil pump bolts, ARP pump driveshaft, Milodon Oil Pan Studs, New timing cover, Fel-Pro timing cover gasket and seal, and Ford Racing One Piece oil pan gasket. INSTALLED

MANY
 options available that are not listed. We can do 55mm cam bores, .903" lifter bores, O-Ring Blocks, ANY cylinder head that is available on the market, belt drives, carburetors, different ring packages, custom oil pans. Whatever you need, we can do.
**Shipping calculated once order is ready to ship**

To see a gallery of our work, click
HERE